---
Ken Reid's Dare-A-Day Davy

( from Pow! #1, 21 January 1967 to Pow! & Wham! #86, 7 September 1968 )
---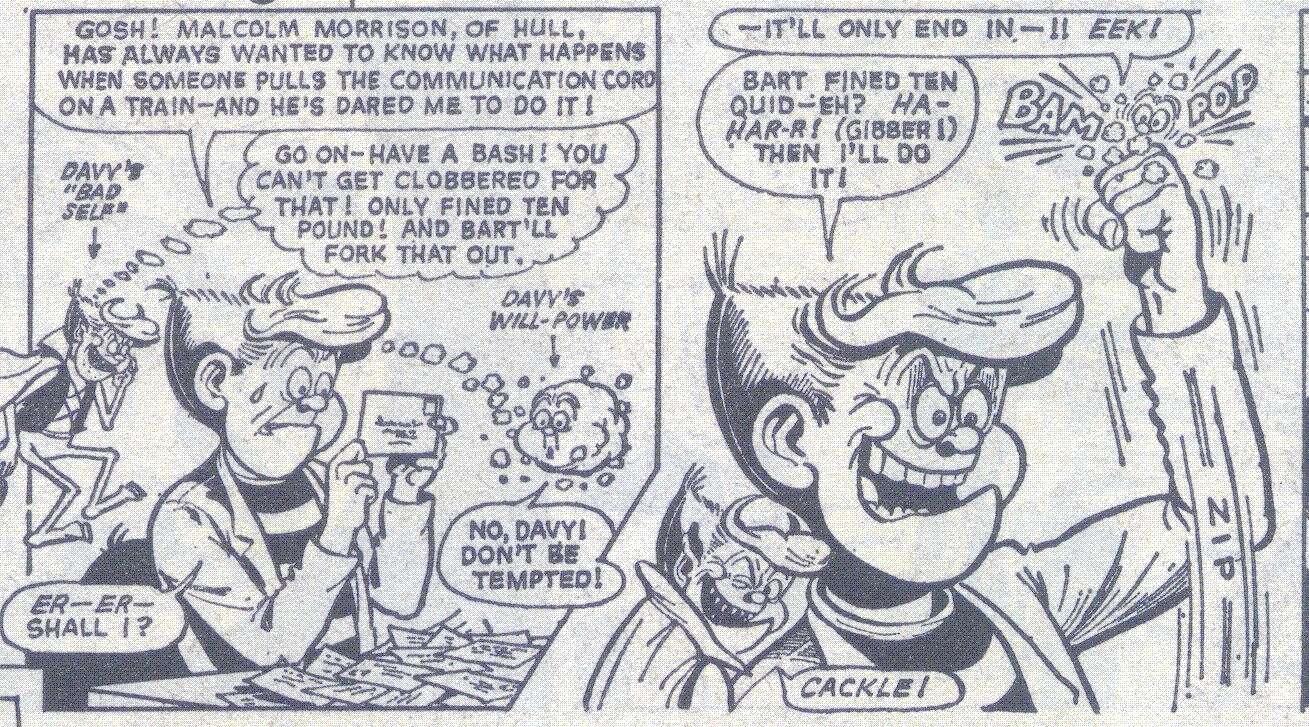 Dare-a-Day Davy by Ken Reid ran for all of Pow!'s 86 issues, usually appearing in full colour on the back page. The premise of the strip was brilliantly simple. A schoolboy who couldn't say no to a dare performed a weekly challenge set by the readers. As an incentive, a £1 prize was offered for any dare that was printed. The concept may have been partially inspired by a series that began in Knockout a generation earlier. A.J. Kelly's Deed-A-Day Danny starred a well-meaning boy scout trying to do good deeds. In contrast, Davy seemed bent on self-destruction.

Reid was a master of comic horror and the grotesque, who had already contributed Frankie Stein, Jasper and the magnificent Queen of the Seas to other Power Comics titles. The first Davy strips were remarkably restrained, but even simple tasks like stealing an apple or asking a girl for a date ended in slapstick violence. The anarchy increased as weeks went by, leaving Davy beaten to a pulp by the end of most episodes.

To depict his mental struggle to resist challenges, we were introduced to Davy's conscience in the form of the yellow cloud-like Willie Power and the readers' dares soon began manifesting as demonic avatars that fought with Willie. This mental combat was soon joined by our hero's evil side, the demonic Davy Hyde. Eventually the Pow! editors unveiled the Schizoscope, a computer that analysed readers' letters and produced a vision of their twisted inner psyche. The charicatures that spewed forth were perhaps a forerunner to the series of Wanted posters that Reid produced for Whoopee in the 1970s.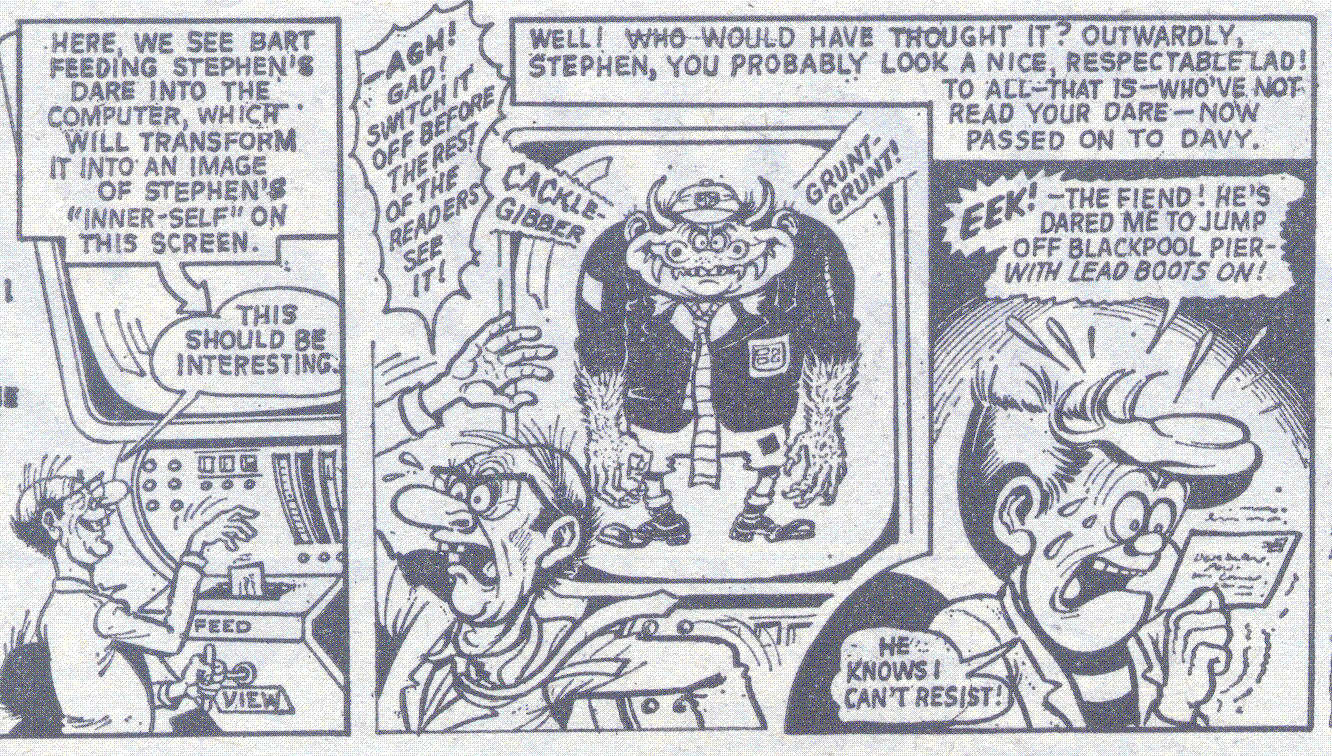 Many stories showed the usual British comics fascination with food or defying authority figures represented by policemen and teachers. There were also the inevitable topical seasonal stories, involving soap-filled Easter eggs or blowing up Parliament in the November fireworks issue. The wilder tales featured vampires, Loch Ness, corpses and space shots. The most surreal dare was to switch the colour labels on the printers' inks, resulting in bizarre colouring for the rest of that particular strip. One reader simply challenged Davy to "Come and get me". Click here for a history of Davy's dares.
The strip was quite self-referential and continually broke the fourth wall. Editors Alf Wallace and Big Bartholomew frequently appeared as Davy's bosses, Davy met man-mad Lulu from St Dominics on two ocassions and even entered a boxing ring with Marvel's Nick Fury, who starred in the S.H.I.E.L.D. and Sgt Fury reprints at the back of the comic.
Shortly after the merger with Wham! in early 1968, Davy lost his position on the back cover to the Wham! veteran Sammy Shrink, the smallest boy in the world, and was moved inside where he continued in glorious black and white for another six months. His last appearance was in issue 86, being blasted into space by an amateur British moonshot.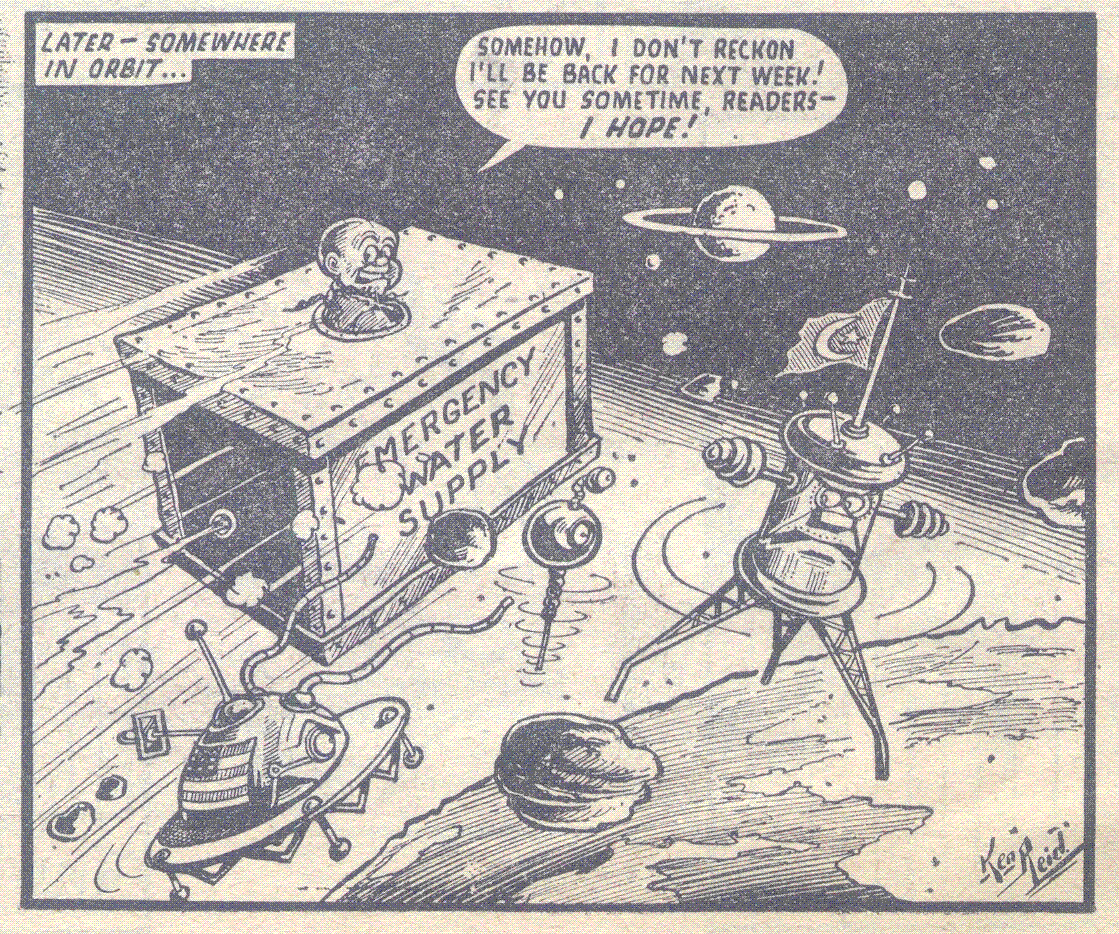 In an issue that featured tearful farewells from a number of the Power Comics cast, condemned to oblivion by the coming mergers with Smash! and Fantastic! Davy expressed doubts that he'd be back in time for next week.
He was right, the strip wasn't selected for inclusion in Smash! Reid stayed with the comic, drawing The Nervs for a while, but after a few months IPC editorial had effectively neutered the one surviving Power comic and replaced its vitality/vulgarity (delete as applicable) with a Valiant-lite clone.
An unpublished, censored strip in which Davy met Frankenstein was rescued by Steve Moore and surfaced in 1969 in David Britton's Weird Fantasy magazine. A few years later Valiant published a spiritual successor, Challenge Charlie, with great art by Frank McDearmid who had previously followed Reid on strips at DC Thompson. Reid himself died at his drawing board in February 1987 and there's criminally few easily available collections of his work. But Davy is still out there somewhere, in car boot sales, or on eBay, and probably in torrents. Go and look for him - I dare you!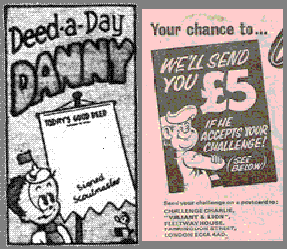 Further reading:
An excellent biography of Ken Reid can be found at Comics UK
Savoy have an interview with Reid and the unpublished Davy strip